Room is currently offline.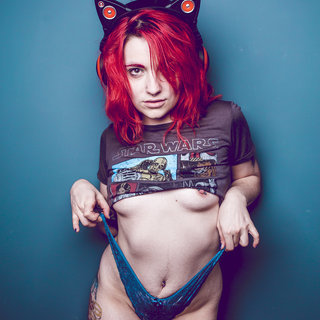 Photos & Videos
About Me
Gender
Female
Country
United States
Sexual preference
Bisexual
Marital status
Involved
Ethnicity
Various
Eyes
Brown
Hair
Multi
Body type
Little In The Middle
Weight
148 Pounds
Height
2'2"
Smoke
Herb
Drink
Moderate
Drugs
Experimented
Favorite food
Creme Bruele
Pets
Shoukichi
Car
I want to get my motorcycle license this spring
Occupation / Major
Model
Favorite Books
Anything by Douglas Adams, ElfQuest, Tolkien, American Psycho, The Alchemist by Paolo Cohelo, Orwell, The Picture of Dorian Gray, 1491, H.G. Wells, Harry Potter, Frank Miller's works, Memoirs of a Geisha, White Oleander, Njal's Saga, Fahrenheit 451, Kurt Vonnegut in general
Favorite Bands / Songs
The Distillers, Joan Jett, Yeah Yeah Yeahs, Iron Maiden, Gorillaz, Incubus, Black Sabbath, The Flaming Lips, Jimi Hendrix, Sublime, The Shins, The Expandables, GPGDS, Slipknot, Marilyn Manson, Rob Zombie, GWAR, Regina Specktor, Adele, Lady Gaga, TLC, Missy Elliot, Portishead, Pepper, Die Antwoord, Tool... many more things
Hobbies
Burlesque costume creation Painting Illustration Singing Crafting ANIME!: Cowboy Bebop, Full Metal Alchemist Brotherhood, Samurai Champloo, Afro Samurai, Attack on Titan, Sword Art Online, Sailor Moon, InuYasha, Gundum Wing, Ruroni Kenshin, Yu Yu Hakusho, Shin Chan! Avatar the Last Airbender and Korra (Americanime) Gamer: Fallout 3, Metal Gear Solid, Left 4 Dead, Skyrim, Shadow of Colossus, Soul Calibur, Final Fantasy (7,8,10), Ocarina of Time, Majora's Mask, Kingdom Hearts
Perfect Mate
Guys covered in tattoos and chill as fuck to hang out with. I am very into intellectual men who can carry on good conversations for hours and I can still sit comfortably with in total silence. I want to be treated like and equal and respected by the mate for me. I am attracted to guys with confidence. I should notice he is around and hopefully he is making me smile. I am also very much attracted to women. I like women who are funny and sexy. I like women like me, alternative looks and strong personalities.
Movies
Pulp Fiction, Beetlejuice, The Wedding Singer, From Dusk Till Dawn, Edward Scissorhands, Across the Universe, Planet Terror, Big Fish, Kill Bill, The Dark knight, House of 1000 Corpses, Eternal Sunshine of the Spotless Mind, Requiem for a Dream
Turn Ons / Turn Offs
Rude people are the biggest turn off ever, please treat me like a human. I don't like gross talk. Don't call me a bitch unless you intend to pay me to say it.
The Craziest Thing I've Ever Done
Had sex in a Corn Field. I was 18 and it was my grandfather's retirement party. My date and I were bored and wanted to go smoke some weed and unwind. We went into the back end of the corn maze in between the corn and smoked and started to unwind. One thing led to some kissing and before we knew it we had our hands all over each other and things were getting heated. I had on a skirt and the ground was pretty muddy, I just slipped my panties to my knees and he fucked me from behind ;)
If I Could Be Anywhere Right Now
Spain in Barcelona. It is my favorite place I have ever travelled to in my life. I have also been to the south of France, Tuscany and Rome in Italy, many cities in eastern Canada and all over the USA. I just love to travel and see new places. I'd love to travel to Tokyo and also to
Five Things I Cannot Live Without
1.My vibrator 2.My Kitty 3.Hair Dye 4.Good Book 5.Weed
What I Do For Fun
I read and watch many things. I am very into escapism, whether it be with a great movie, a thought provoking book, or even a dumb comedy; I enjoy the adventure it takes my brain on. I am a huge stoner as you all know, and like to go on smoking hikes and enjoy the world around me. I love to camp as well, nothing is quite as beautiful as sleeping under the stars. I have been doing quite a lot of traveling lately and it does appear to be ending any time soon.
Best Reason To Get Know Me
I am very down to earth and genuine. i love to talk to people and truly get to know them and make friends. I talk a ton and just act like my regular goofy self.